It was one of those rare days. I was sitting in the office with nothing much to do. Rather than browse classic car classifieds (the usual go to, to while away some spare time), I decided to don my old investigative journalist hat and set about to track down one very specific classic car. Not a particular model mind you, but a specific car. The car that had belonged to my grandparents. A 1965 Volvo P1800S.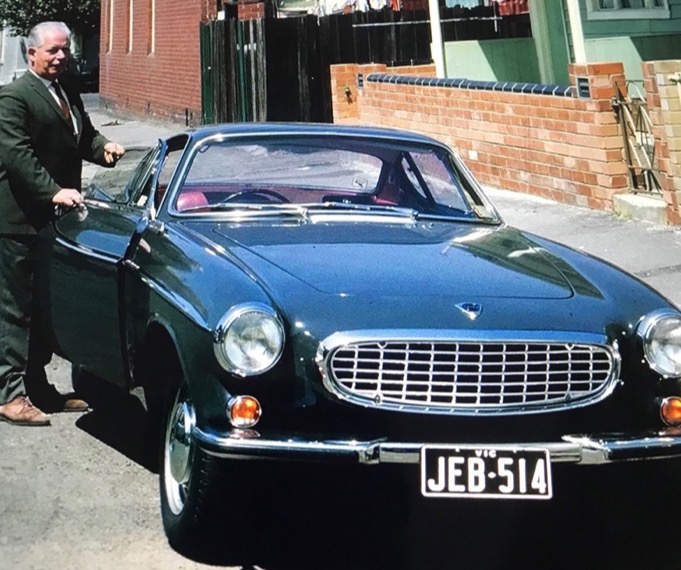 The car being delivered to Max Judell in 1965
The Volvo was bought brand new by Max and Kitty and became their daily driver for the next twenty six years. Along the way it received a new paintjob to white, no doubt due to the huge success of The Saint television program, which saw many a P1800s turn white in honour of Roger Moore's famous character.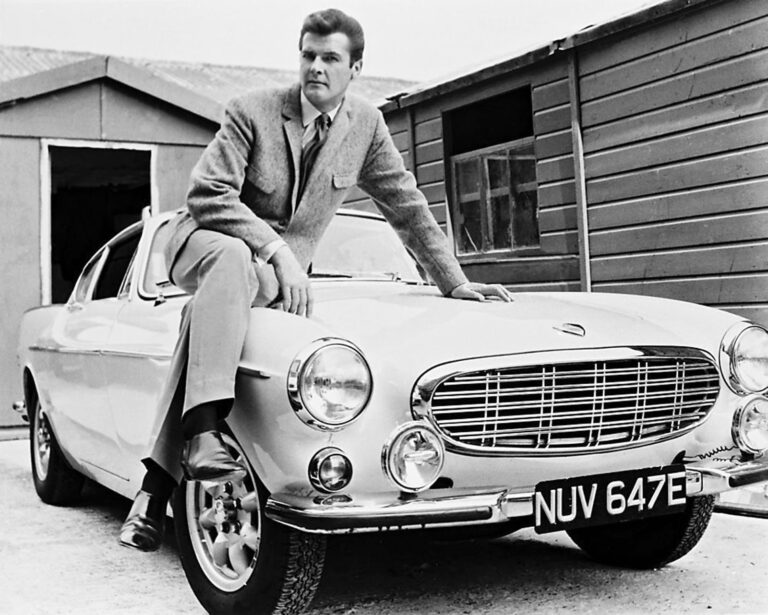 Roger Moore posing next to the p1800s from The Saint.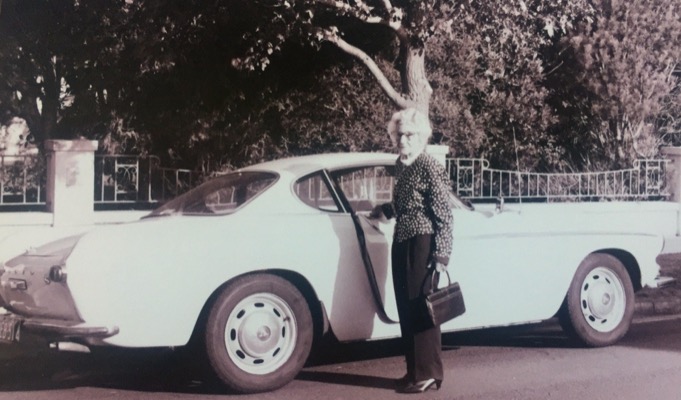 Kitty Judell with her now white P1800s
My grandfather passed on the early seventies but Kitty kept the car as her daily and when I was old enough she let me drive it too. It handled like a battleship and was about as heavy too, but we both loved it. Something about the lines of this car really resonated with me from the moment I saw it as a child. When Kitty passed away in the early 1990s the car was supposed to be mine but as I was then living interstate, it was sold by another member of the family and promptly vanished.
So, after nearly thirty years in the wilderness I assumed the worst case scenario. If I was going to find this car, it was probably going to take a fairly long time.
I had the skills to begin the hunt but figured I'd have at least three months research ahead of me, if I was lucky. But then something quite remarkable happened in my search for "Kitty".
The hunt began of course online. Car clubs and forums seemed like an obvious starting point. After about ten minutes of poking around there was one name that seemed to come up repeatedly – John Johnson. A man who many owners of P1800's seemed to recommend to anyone who needed repairs or restorations – and there was a mobile number. So I called him up.
The ensuing conversation went something like this;
"Um hi John…are you by any chance in Melbourne?"
"Yes" replied John.
"Okay great. I'm looking for a P1800 that was sold sometime in the early 90s and I think it was purchased by a guy living in Elwood at the time.."
"Okay, but that's really not very much to go on" said John. "Is there anything else you can remember about the car?"
"Not a lot, but I think the first three letters of the original number plate were JEB…"
John immediately came back with "…514. JEB 514. I know that car. In fact, I'm looking at it right now."
The expected three month search for the Volvo had concluded in less than twenty minutes on day one – and with the very first phone call.
"Where are you John?"
"I'm in Moorabbin."
"I'll be there in twenty minutes."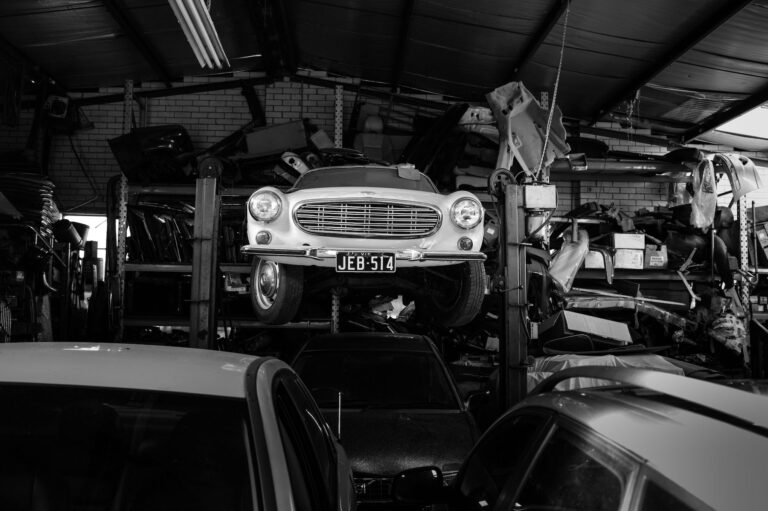 Volvo on hoist at John Johnson's Voldat workshop in Moorabbin
I expect that I got to Moorabbin in record time. I didn't really know what to expect, but the excitement was palpable. Even when I saw the state of "Kitty".
The car was unregistered and unroadworthy. It had been sitting up on a hoist in John's workshop for the past couple of years as the owner had been unable to afford the repairs to get it going again. He loved the car and had owned it the entire time – 27 years. The big question was – would he sell it?
Turns out that the story of the grandson searching "for years" to find his grandparents car was the right approach and a day later the car was back in the family.
And so began a painstaking year-long bare-metal restoration of the P1800s. The brief to John was to get the car looking and driving exactly as it had in the photo of the day Max and Kitty had taken delivery of their brand new sportscar in 1965. And to meet that brief it has to be said that Mr. Johnson certainly didn't disappoint.
By sheer luck the car was already in the hands of the foremost expert in this particular model and he was very glad to give this car everything it deserved. It turns out that John has forgotten more about P1800's than anybody knows, outside of Sweden I suppose. He's a master mechanic with an encyclopaedic knowledge of the Volvo and a perfectionist's approach to restoring them.
"Kitty" had aged pretty well. Very little rust and those B18 engines are basically bulletproof anyway, so most of the work was cosmetic (don't tell John I said that). But it was very time consuming. A lot of parts had to be sourced from Sweden, but that was a revelation to me – they still make the parts. The biggest decision was returning the car to it's original charcoal grey but as it came together with sparkling new brightwork, in hindsight it was a no-brainer.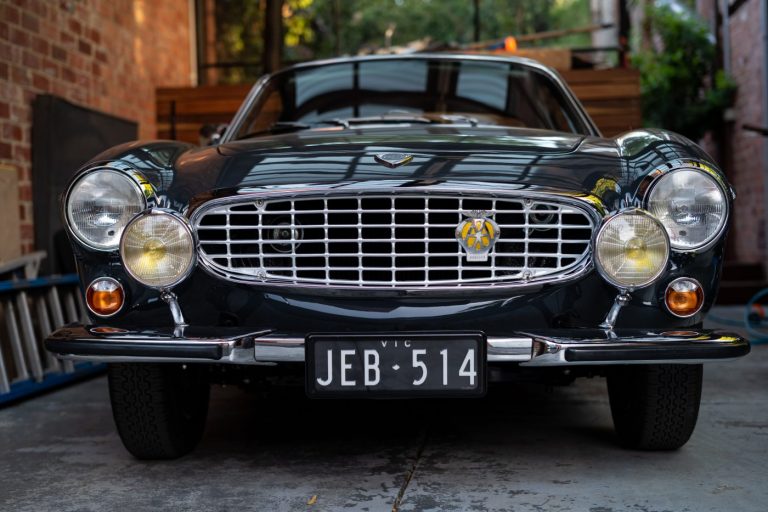 JEB 514 "Kitty" today safely back in the garage.
Today the Volvo is pristine, like it just rolled out of the factory in Sweden and into the hands of Max and Kitty in 1965. It is a pleasure to drive and I have never piloted any car that turns heads like she does. Everywhere I go people stop and wave, sometimes even cheer. "Kitty" brings a smile to people's faces and it certainly does to mine. And one day the car will belong to my own son Max, named of course after her original owner. As it was always meant to be.
Full Episode Below


Volvo P1800S
Watch the video
Episode 005
1965 Volvo P1800S
Made famous by Roger Moore in 'The Saint' the car undoubtably has star appeal but would the car have the substance to match it's style?