We are the type of drivers from whom the answer to the question 'would you like to try it', is invariably "yes".
It's an important question to answer in the affirmative for any car one is ever offered for, should you really want to know the character of a car – and its suitability to you as a driver, then driving it really is the only way to learn it. Although this is something that applies to as we say "all cars", the intricacies of one car in particular are such that without driving all versions, it can be particularly difficult to judge and to understand what makes "the best" any better than the others. That car is the 911.
If one company ever personified the saying 'racing improves the breed', it's the famous Dr Ing hc F. Porsche. Many companies race their cars, however not all are as good as Porsche when it comes to applying the lessons learnt. And this is specifically why, when the opportunity presents itself to climb aboard the most revered of 911s, one is given the opportunity to understand why this model has a halo, and why so many have sought them for so long and if you've ever wondered – why their value is so stratospheric. Not just against other 911s of the period, but other sports cars of the period.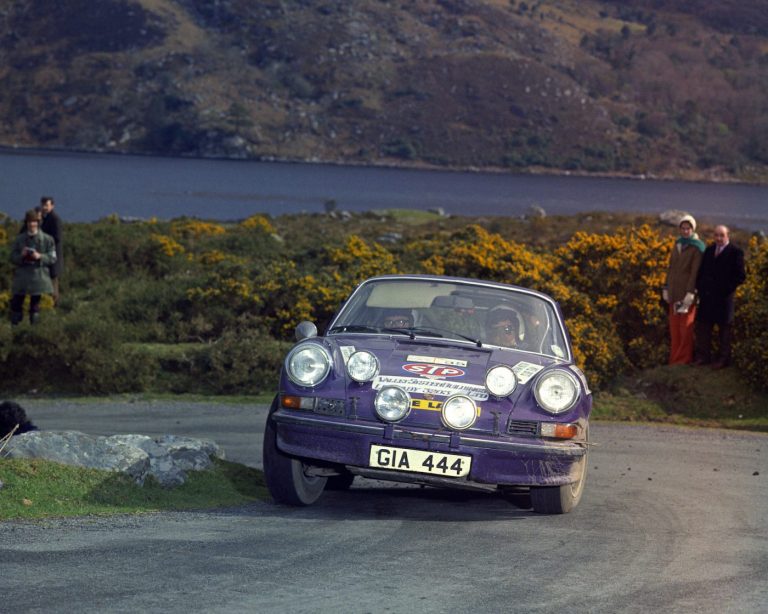 And so you can imagine, that in 1972 after eight years of 911, at Osterreichring at the 1000km event when Porsche ran the 2.7 litre Carrera for the first time that this 'ultimate version' of the original car caused a sensation. First from a visual point of view, this new car wore aerodynamic aids in the form of an air-dam at the front to prevent air from going beneath the car, and then a small spoiler at the rear to increase downforce on the rear wheels. It was also wider at the rear, its arches extended to cover wider rear wheels. Visually, it was a taste of what was to come. The car that was run that year at Osterreichring was a prototype for the required 500 homologation versions that the FIA required; it could be ordered as a Touring version with all the mod-cons of the day like a radio, carpets, interior trim – and a glovebox lid. Or, it could be ordered in competition form, the context in which it wasn't uncommon that the amateur racer could collect their car from Zuffenhausen, drive to England, or Italy or stay in Germany and race the car.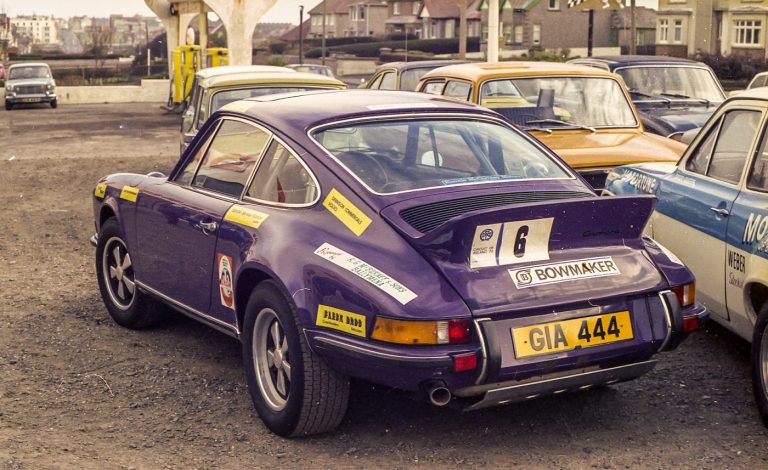 Germany had been the masters of mechanical fuel injection since the early fifties, learning valuable lessons from aeronautics in the war and this car was Porsche's ultimate development of that means of atomising petrol. It endowed its two-point-seven litre version of the ubiquitous flat six to rev beyond 7000rpm and to develop 210 brake horsepower. Thus aerodynamics combined with output from an astonishing and flexible engine then the grip, road holding and ride that were inherent from attentive chassis development in all types of racing, but also from eight years of development of the 911 as a production road car meant that this car established itself very quickly as a thoroughly sorted, potent and formidable racing car – that could also be used to great effect in rallying, and indeed – on the street.
And so it is that we could climb aboard this car, not only on one occasion but on many, and experience what has made the 2.7 litre Carrera a legend amongst other 911s.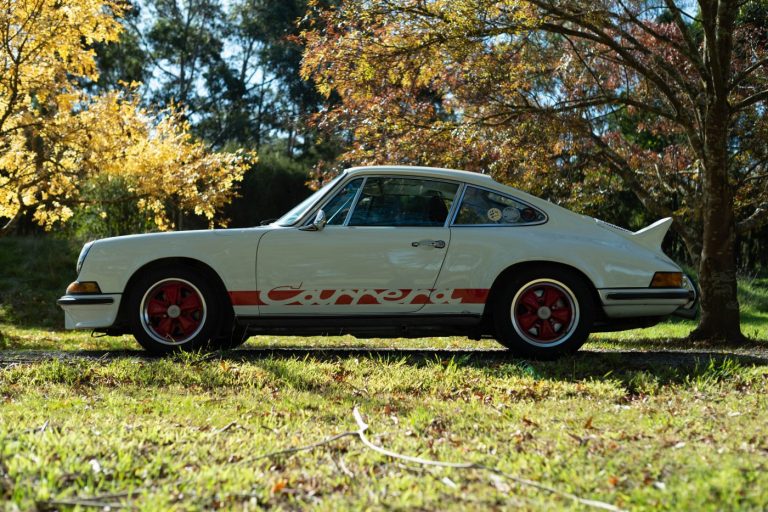 Is it that different to other 911s of the time? Not upon initial encounters. Of course, one will notice differences like the small redline marker on the tachometer being a wee bit further around the dial. And sports seats, but they were available as options in other cars. It sounds more urgent, and seems to have real willingness to rev – and it does stop better it seems, but roundly it's not that different to many 2.4 litre variants. But get the thing on the trot, and then you start to understand. I've always marveled that the best 911s are but a whisker away from obeying your thoughts – so direct is the steering, that you nearly 'think' it around corners. The tape plays in your head that tells you "you're driving one of the greats here", but nowhere in the tape does it say "take it easy". 911s will you to go faster and none faster than this one; to use more revs and shift later, brake later and to push toward your limit because God knows, yours will inevitably be lower than this car's.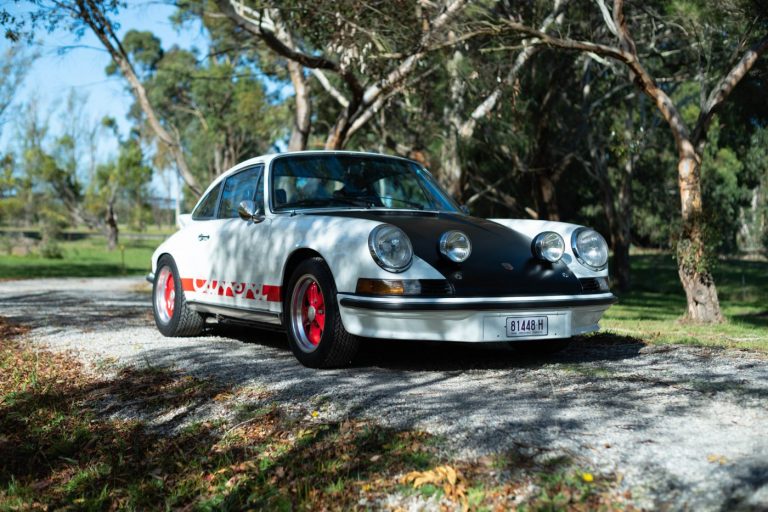 This car is white, probably Grand Prix but white in want of something more exotic as a name. Its side strips and the paddles in the iconic Fuchs are red. A colour combo that is as iconic as the model itself. Yet, it isn't meant to be. The car left Stuttgart Zuffenhausen in 1973 and went to its first home in Ireland via AFN, the Porsche Agent for the United Kingdom, resplendent in Lilac. Or Royal Purple, call it whatever you like. It was optioned as a Touring, with a sunroof and plenty of trim – but before it got as far as the shops, it went rallying. Not just a rally car, but a winning rally car. Between 1973 and the late 1970s it racked up a list of wins and places in Irish events and became famous in Ireland, and then further afield as one of – if not the earliest non-factory entered 2.7 Carrera to become a winning car in competition.
And then like all old racing cars, it passes from the spotlight because something faster and more capable comes along. Although I suppose, nobody ever really forgot about the 2.7 Carrera, and even if they weren't always very valuable – they were always worth more than bread and butter 911s. Somewhere in the car's story, it was sold in England and finished up in Australia in the mid 80's to then have a restoration in the nineties when it was painted in the iconic colour scheme and forgoing its unique Lilac livery. Today, in the hands of a sympathetic owner with a feel for history and appropriateness it is being taken back to its original. To live again exactly as its build sheet dictated and our man Belford, the brains and black-art talent behind Werk 1 Classic Porsche Restoration is taking it there.
When I am asked the question post-restoration of 'would I like to try it'? Again the answer will invariably be yes! It'll drive just as well, if perhaps a little better on its original type period tyres and with a freshen up of some of the mechanicals, but when I look forward out of the screen, and past the Lilac front guards and the headlamps and see the road rapidly vanishing under the car, I'll know exactly how it felt to drive the best of all 911s in 1973. And like I said, there's no substitute for knowing, and there's no substitute for nostalgia – first hand.
The 1973 Porsche RS 2.7 in action
Watch the video
Episode 002
1973 Porsche RS 2.7
Iconic in every way and with a price tag to match, this aerodynamic beauty redefined performance. Dave and Benny take this legendary car for a spin.