You cannot determine a car's character by reading its data off a sheet, nor by knowing where its mechanical bits and pieces came from, nor by making an estimation of it via other models that wear the same badge. Every model's character is defined by its appearance, how it feels inside and then, most importantly, how it behaves.
And this is exactly what one needs to do to correctly analyse the Ferrari 250 GT/E.
By the middle of the nineteen fifties Ferrari had won the 24 hours of Le Mans and the World Constructor's Championship several times in Formula One. It's fair to say there was something of a "pedigree" about Ferrari cars, even before 1960. Moreover, the efforts that the works put into racing cars in those days was the company's absolute focus and one doesn't have had to read a lot of the company's history to know that although Ferrari made road cars it was for many years done begrudgingly as a means of making enough money to continue the racing campaigns all over Europe.
With great victory comes great fame though, and with that a clientele that make requests. Until the late fifties, the only four-seat Ferraris could be counted on the fingers of one hand and were in all cases, "specials" that had been constructed by various carrossiers on lengthened chassis'.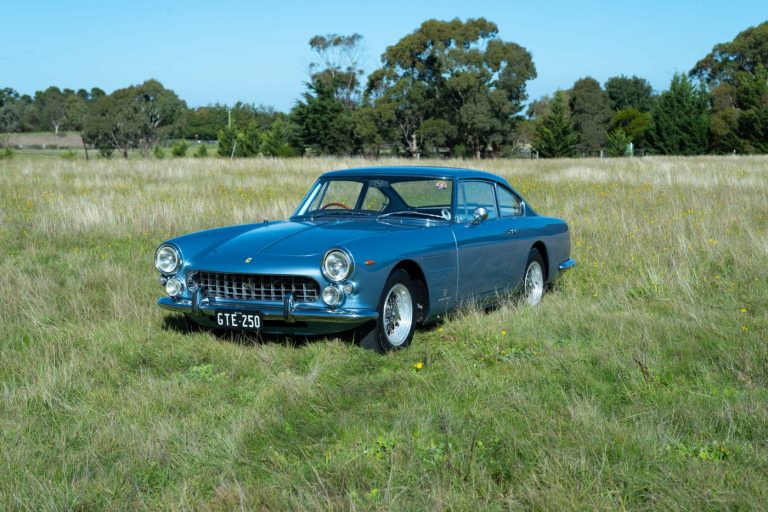 The clientele were speaking loudly in the mid-fifties, and what they wanted was a four-seater. If the legend is to be believed, Ferrari the man was reluctant to oblige but – where an opportunity to put money in the till existed, so did commercial reality. The existing 250 series cars that had up to then been a run of coupes, spiders and racers powered by Colombo's now-legendary V12 in various states of tune would be greeted in 1960 by Ferrari's first "production" four seater. In fact, it was at the 1960 running of the famous French 24 hour endurance that the world would clap eyes on the GTE for the first time, a pre-production example being used as the pace car for the event.
In just over three years, Ferrari built 954 examples of the GTE, clothed in bodywork by Pininfarina – the closest of all carrozzeria to Ferrari, and powered by a three litre, triple-carburettor version of the Colombo V12. That production number will not seem like a lot of cars by today's standards however, from the beginning of 250 production right through to the end, GTE production accounted for half of all the series run, demonstrating that Ferrari's response to demand was indeed well judged and well timed – and it lead to a lineage of four-seat grand tourers powered by variations of the Colombo V12 that would take the company all the way into the nineties. The die was thus cast.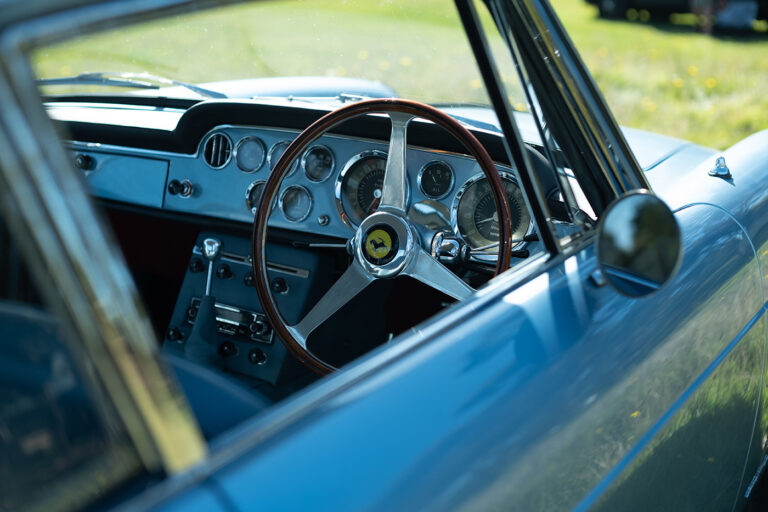 Slipping one's self behind the timber-clad, alloy three-spoke steering wheel of a late-production right hand drive example is for some of us, the stuff of legend. Character is, as defined by these cars, something of genre-defining design. The driver is greeted by two saucer-sized Borletti instruments that tell of road speed and engine revs, and a handful of smaller dials that report the car's secondary functions to the cross-continental motorist of the sixties. Bakelite push-and-pull switch gear, hopelessly labelled with a single letter ambiguous to whether that letter is English or indeed Italian, gives little clue as to each knob's function and only the car's owners advice about priming the fuel pumps helps to locate the actuator for the auxiliary pump.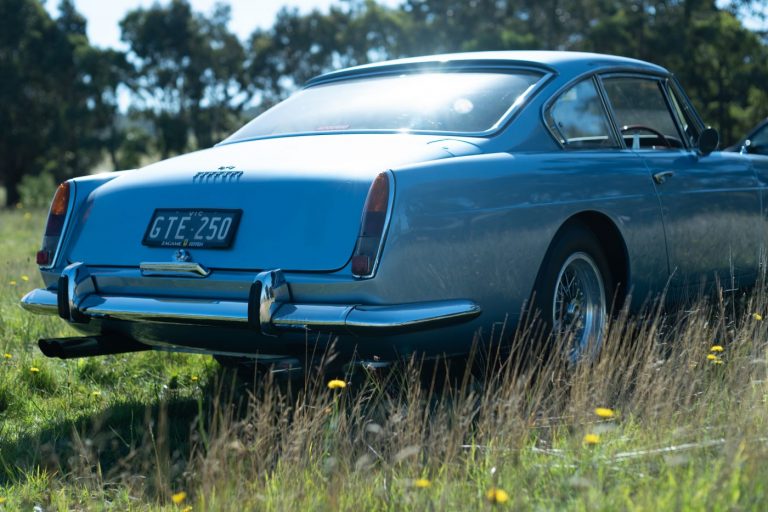 Materials are sheet metal, blue leather and red carpet. Details in timber and stainless steel give the interior a character that screams elegance and, should the car be a soft and luxurious experience, wafting you away in near silence – you might not even be disappointed. However, once the pumps have slowed down after filling all three carburettor's bowls with fuel and the ignition key is rotated and then pushed, the characteristic Colombo metallic clatter of starter motor then ignites twelve cylinders into a cacophony that – even before moving off, defines what the rest of the experience will be like.
The car in question was delivered new in Australia – a very small number were right hand drive, and a few came here as official imports. You think of a far simpler Australia when you look out the screen of this GTE, and think of the cars on the road that this would've shared lanes with at the time. Yes, we had many European cars here then, but not like today – and not "exotics" as we've become accustomed to seeing with such frequency that we now rarely pay attention. This car's first owner was the father of its current custodian, and he retrieved it via an intervening period where the car left the family after his father traded it on a faster 275. It's all part of history, and it makes driving the car all the more special for some inexplicable reason.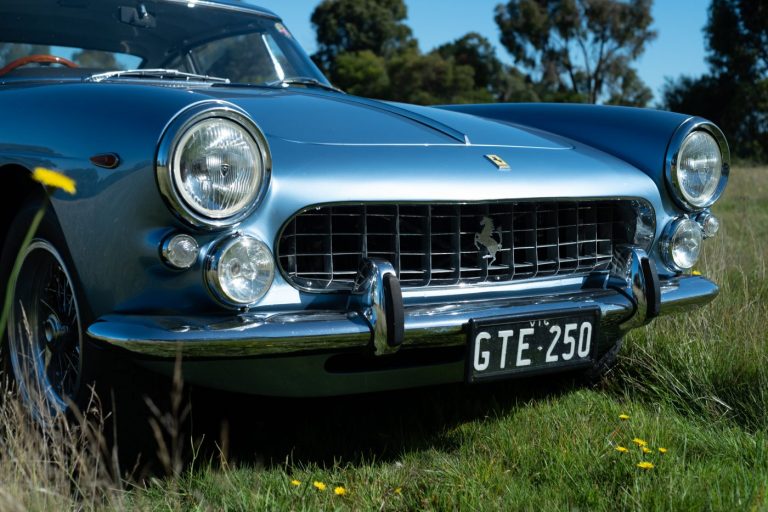 1963 Ferrari GTE 250
As the fluids warm, the car feels more willing and you soon forget all the interior detail that so impresses when you first settle in. Now the experience is reminding you, slowly but surely that this is nothing but pure Ferrari 250; thoroughbred by anyone's judgment, and never far away in character nor intent from the fire-spitting variants that defined Ferrari's early years in competition. The car responds to deft application of throttle, and a commanding and direct grip on the shift lever, but a light command of the wheel. The controls are not heavy as one might expect, but every light command of the driver rewards with change of direction, healthy acceleration or indeed, retardation when desired.
As the rhythm builds and if like I am, your heroes came from the fifties and from Europe, this car instantly transports you to a time when the likes of Moss and Bianchi, Gendebien and Gregory emerged from the cockpits of cars like this with soot-stained faces, clean stencils around their eyes left by goggles. White pudding-bowl helmets still strapped on while they had wreaths thrown over their heads, and they had a bottle of Coca-Cola thrust into their hand.
Yes, character can only really be defined by experience and in some really great cars character is definable by the way you drive the car. Some cars can be what you want them to be, and a 250 GTE is definitely one of them.
The 1963 Ferrari 250 GTE in action
Watch the video
Episode 003
1963 Ferrari 250 GTE
Fresh from winning the F1 World Championship, Ferrari produced his first 4-seater. An astonishing engine, but would the rest of the car let it down?